Live Event: Employment Law and Human Resources Management in the United Arab Emirates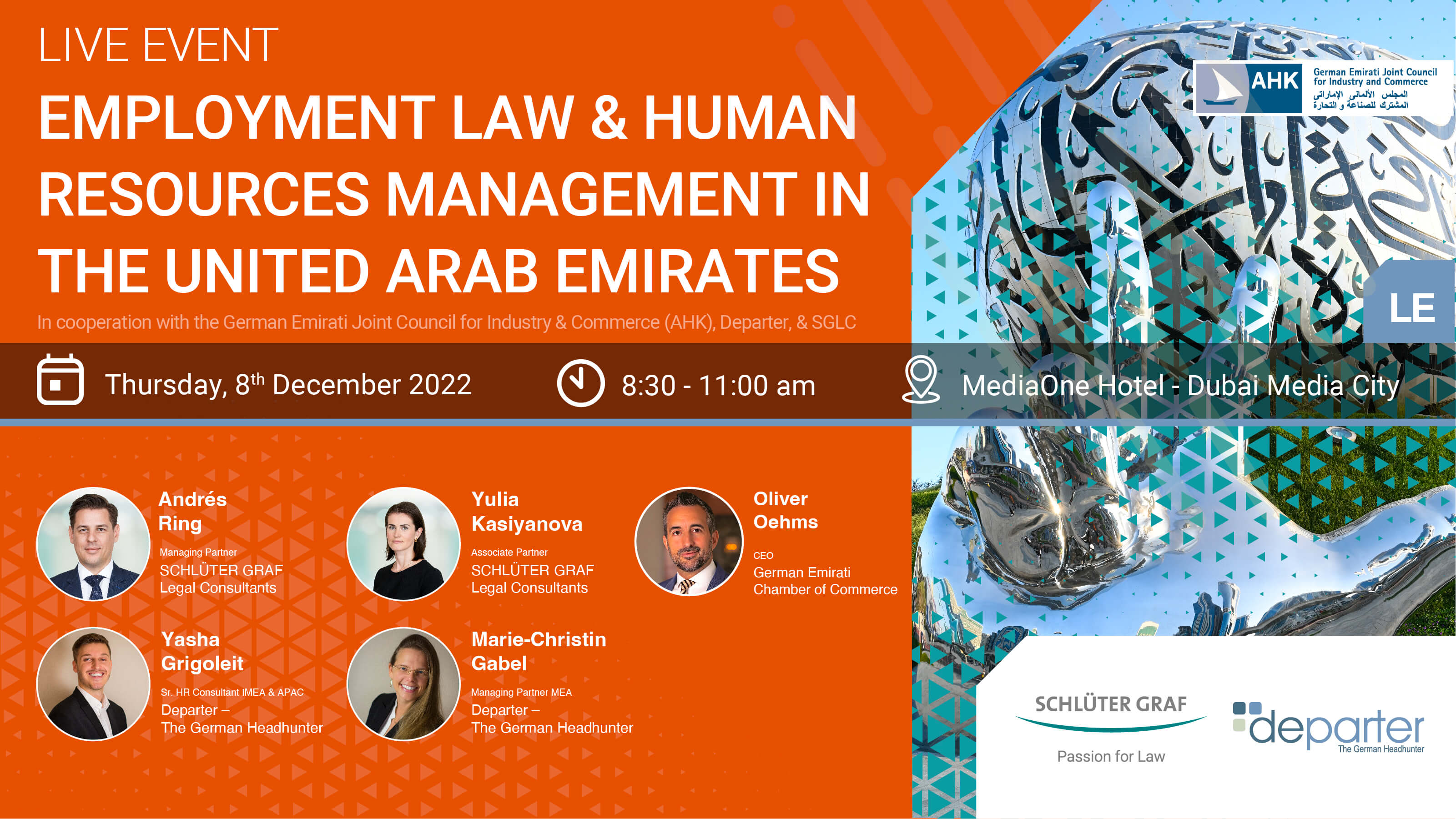 2022 has been an eventful year for HR departments and staff in the UAE, with updates and developments issued almost on a monthly basis. This trend will also continue in the first quarter of 2023 with the introduction of the unemployment insurance scheme. In light of these fundamental and important changes, Departer and SCHLÜTER GRAF are delighted to announce the second edition of the Guide "Employment Law & HR Management in the UAE", highlighting all new developments and introductions as well as the new Departer salary report. The launch of the new guide will be introduced at and accompanied with a live event held by Departer, SCHLÜTER GRAF and AHK on 8 December 2022, Thursday, 8:30 AM UAE Time at MediaOne Hotel, Dubai Media City.

Places are limited. First-come first-served basis.
For registrations, please click the link below:
AHK Member AED 160 Non-Member (AED 240)
Agenda
8:30-09:00 am: Registration & Networking
9:00-11:00 am:
Opening Remarks by Mr. Oliver Oehms

Presentation of new guide "Employment Law & HR Management in the UAE" and introductory remarks by Marie-Christin Gabel and Andrés Ring

Employment Updates - presentation by Yulia Kasiyanova

HR Management and Salary Trends - presentation by Yasha Grigoleit
11:00-11:30 am: Q&A Session and Networking
About the Speakers
Oliver Oehms is CEO of the German-Emirati Joint Council for Industry & Commerce (AHK UAE). He is also the Delegate of German Industry to several other Gulf countries (Kuwait, Oman, Qatar and Iraq). From 2016 to 2019 he was the Delegate of German Industry and Commerce for Saudi Arabia, Bahrain and Yemen.
Marie-Christin Gabel is an experienced HR executive with 16 years of working experience in the UAE, providing Executive Search to companies headquartered in the DACH region. Driven by her passion for HR and Consulting, she takes pride in providing the best client and candidate experience possible and builds bridges between requirements and market conditions.
Yasha Grigoleit is a top-class executive recruitment professional with 8 years experience, successfully consulting clients in Germany and the UAE from various industries across the IMEA & APAC territories.
Yulia Kasiyanova graduated in law from Humboldt University in Berlin in 2008 and gained valuable experience as an assistant with the petition committee of the German Bundestag, an owner of a manpower company, and a lawyer with Aderhold Rechtsanwaltsgesellschaft mbH. She joined SCHLÜTER GRAF's Dubai team in the same year.Yulia is advising clients on how to structure and re-structure business activities and companies in the UAE from every angle – corporate, commercial, employment and tax – while keeping in mind the client's business models and goals.
Andrés Ring is a Partner in the Dubai office of SCHLÜTER GRAF with over 14 years of international experience. Andrés specializing in corporate matters (joint ventures, M&A, re-structuring), employment and HR topics, distribution and production structures, infrastructure projects as well as contentious matters in the Middle East and Emerging Markets.