UAE Corporate Income Tax Law in Effect and other upcoming Laws and Deadlines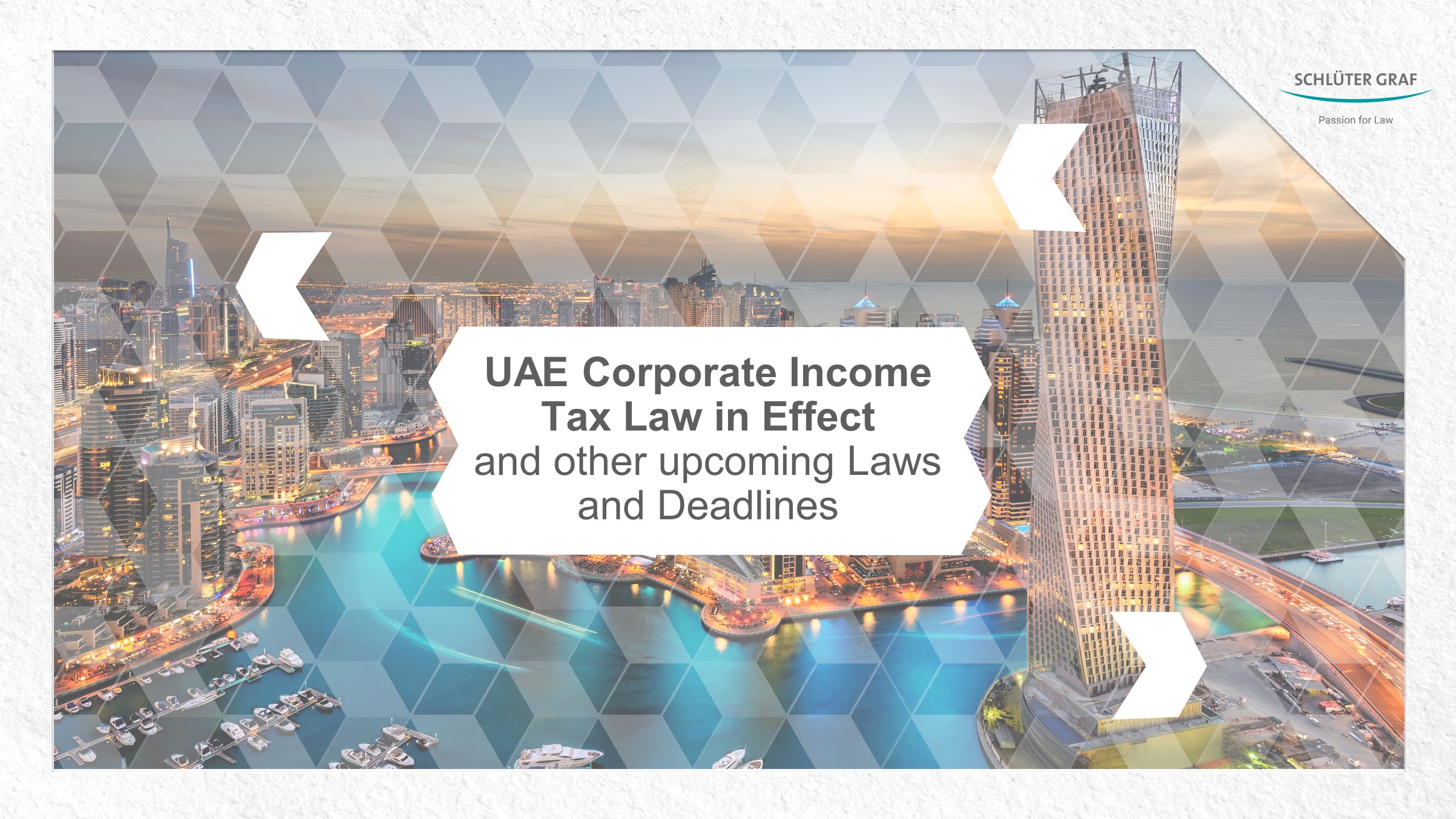 Don't let the ticking clock catch you off guard! As a forward-thinking business, it's crucial to stay ahead of the game and ensure compliance with CIT and other impending deadlines:
1. UAE: Corporate Income Tax – 1 June 2023:
From today, 1 June 2023, the UAE Corporate Income Tax Law is in effect. After the introduction of Value Added Tax about 5 years ago, the introduction of CIT represents the next major milestone in the UAE tax landscape. For many businesses the taxable period will start on 1 January 2024 (in line with their fiscal year). In order to prepare for the payment of corporate income tax, companies – including free zone companies – have to ensure that their financial statements are prepared in accordance with the applicable accounting principles and audited by an accredited auditor in the UAE. Companies who did not prepare financial statements until now, have to do so for the financial year 2023 as this will be the basis for the financial statement 2024 and later on for the tax calculation.
2. UAE: ESR (Economic Substance Regulations) – 30 June 2023:
Businesses with a financial year end of 31 December 2022 that carry out a Relevant Activity must file an Economic Substance Notification on the Ministry of Finance Portal by 30 June 2023.
3. UAE: Emiratization Target – 30 June 2023:
Companies with 50 employees or more must ensure that they have recruited 1 % of UAE nationals in skilled jobs within the company. Non-compliance may result in accumulating fines.
4. UAE: Unemployment Insurance Scheme – 30 June 2023:
Employees must subscribe to the mandatory unemployment insurance scheme that aims to provide resident employees with financial security in the event they lose their jobs due to reasons other than resignation or disciplinary action. Subscription can be done online on the official portal www.iloe.ae. Depending on the basic salary, the annual subscription amount is AED 60 or AED 120.
5. KSA: Data Protection Law – 14 September 2023:
Saudi Arabia's Data Protection Law will come into effect 720 days from the date of issuance of its original version i.e., mid-September 2023. Hence, companies must acquaint themselves with the new amendments issued in March of this year and align their policies accordingly.
Stay ahead of the curve by prioritizing these deadlines and aligning your business strategies, accordingly. The team at SCHLÜTER GRAF will gladly support you.